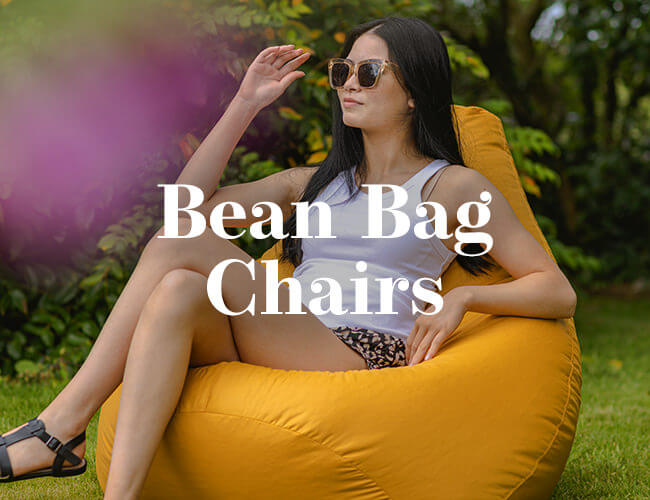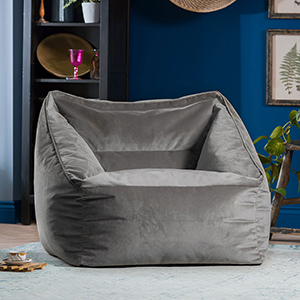 SAVE £15
Velvet Lounge Chair
£164.99&nbspFrom £129.99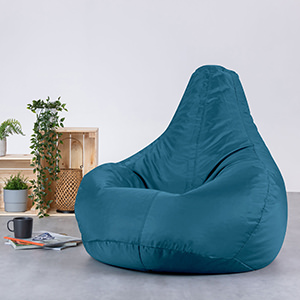 SAVE £26
The Recliner
£69.99&nbspFrom £43.99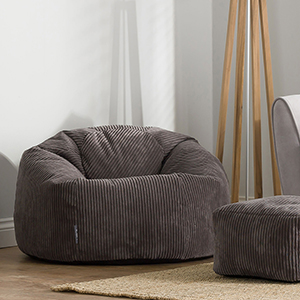 SAVE £25
Cord Bean Bag
£84.99&nbspFrom £59.99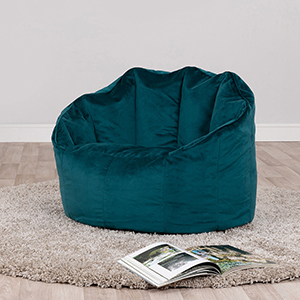 SAVE £20
Velvet Accent Chair
Was £119.99 Now £99.99
If you're anything like us, you are going to fall head over heels for bean bags. Cocoon yourself in the unbeatable comfort of a bean bag chair, they are a great way to add a cosy spot to any room in your home. From beautifully neutral tones to popping colours, you can browse our collection of fabric styles and bean bag chair designs. You'll struggle to find anything more perfect for relaxing with your latest book, watching movies and unwinding with your Sunday morning coffee.

BeanBagBazaar's innovative design experts have ensured your bean bag chair will be your favourite chair to get comfortable in.
A bean bag chair is designed to provide you with back support that's bespoke to your body. Each bean bag cover is made up with panels to help create a supportive chair shape when you sit into it, with the sides of the bean bag wrapping around you to create an arm rest shape. The bean filling inside bean bag chairs can flow freely and mould to the shape of your body.
All bean bags at BeanBagBazaar are made to last with double stitching for extra strength and hand-picked, high quality fabrics. The bean filling is securely stored away inside behind two zips and the outer zip head is concealed to help prevent scratching on floors or any unwanted opening of the bean bag by children.
Our Indoor-Outdoor Recliner Bean Bag Chair is the most versatile of our beanbag chairs. It can be used in the living room during the winter months as a cosy chair in front of the television or as an extra seat for guests. In the summer months you can enjoy taking this lightweight bean bag chair into the garden for BBQs and sunbathing.
If you work from home then the Faux Leather Recliner Bean Bag Chair is the perfect choice for adding some comfort to a home office whilst still looking smart and professional. A faux leather bean bag is also a great choice for a living room as it looks good alongside most sofas and other furniture items.
For living rooms or bedrooms with neutral palettes the beautiful Faux Suede Recliner Bean Bag Chair is the perfect occasional chair that will add a stylish soft texture to your living space.
If you are looking for ultimate luxury then the Real Leather Recliner Bean Bag Chair offers unrivalled support and comfort. The natural aroma and texture of the real leather makes this statement furniture item a fantastic gift idea or additional touch of luxury for your living space.
Bean bag chairs don't just stop at our recliner style, BeanBagBazaar also offers comfort seating for adults in the rounded shape. The Indoor-Outdoor XL Panelled Bean Bag Chair is made in a classic rounded shape but with its unique panelled design it creates a much more supportive shape than most bean bags.
This classic style remains so popular we offer it in lots of different fabric options. If you are a fan of super soft fabrics then take a look at the Chenille, Mircoplush Cord or Faux Suede XL Panelled Bean Bag chairs.
If its luxury you're after then our Faux Fur XL Bean Bag Chair and our Real Leather XL Bean Bag Chair are both striking items for the home.
Alternatively our Faux Leather XL Panelled Bean Bag Chair offers a smart and stylish look at an affordable price.
©BGRP Ltd. All rights reserved. Registration Number 5423920 Unit 3, Easter Park, Baker Road, Nelson Park West, Cramlington, Northumberland, NE23 1WQ